Ever since I was a young teenager, just starting to explore the world of spirituality and self-help, journaling has served me well in expanding my awareness, personal growth, and the actions I take to create the life I want. We usually think of journaling as a reflective process, a form of inspiration and creativity, a place to express your gratitude, or capture your dreams before they slip away. Have you ever thought of using a journal as an Inspired Action Tool?
All types of journaling have great value, but when you use journaling as a tool to put your insights and inspirations into action, you fast track bringing your ideas and soul's guidance down to earth to create your hearts desires.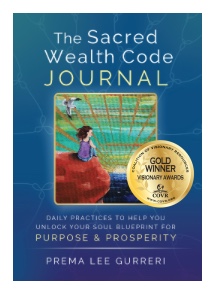 One of the big blessings about journaling is that there's no writers block! You don't need to know what you are going to write when you open the page. An intention is all you need, because it's an interactive process between you and your soul. Journaling prompts can be super handy as they can kick start the process. They open a hidden door to your soul, so you can quickly dip deep into the divine well for the insight, information, or the TRUTH you are looking for. In just a moment I will share with you my favorite journaling prompt that will turn your journal into an Inspired Action Tool. But first, let's go over some of the different types of journaling.
Reflective Journaling
Is when you have an event you've experienced, an inspiration, a dream, or maybe you're pondering one of life's biggest questions. You open up to a free flow of thoughts and write whatever comes up for you, which may include both your positive, and negative feelings, what the meaning was, and what you learned from what you experienced.
Inspiration & Creativity Journaling
Is used for inspiration and to make note of ideas, thoughts, emotions and intuition, that have the potential to ignite creative projects. You may jot down random thoughts or insights, juicy bits of conversations, or something you see or read that inspires you. In this type of journaling you may also enjoy painting, drawing, or using any other creative medium to express yourself.
Gratitude Journaling
Is a daily practice to tune into and reflect on what you are most grateful for. When you are in the state of gratitude you're thankful for what you've received, amplifying your power of attraction and therefore attract more of what you're grateful for. Gratitude is Your Superpower when you also include "WHY" you are grateful.
It's one thing to gather insight, intuitions, and inspirations and write them down for safekeeping… but that does not ensure them coming into being. The inspiration for a new book, business idea, healing method, great piece of art, or innovative idea to change the world will not come into being without Inspired Action.
Inspired Actions are marching orders from the divine the next best steps you need to take to bring your brilliance down to earth. Practical divine guidance will move you step-by-step closer to creating your hearts desires. In fact, it's best to move one step at a time, because one step is totally doable and keeps you present with what you're creating.
The journaling prompt that can be used with any type of journaling, and gives you the guidance you need to create your life and business from the inside out is, "What's one Inspired Action I can take today?" You only need to turn your attention inward and drop that powerful question into your all knowing heart… I promise that your next Soul Aligned Step will be revealed to you!
My business and life would not be where they are today if I didn't use these powerful words in my journaling practice. Taking Inspired Action is how I have created something from my divine downloads.
The Sacred Wealth Code Journal is one of those creations! I designed it from my own journaling process, to help you to tap into your brilliance and create your inspirations. It is meant to be used alongside the Sacred Wealth Code Oracle Cards or Book, and comes with guided meditations that escort you through the process.
I am super excited to announce the SWC Journal has won a gold award from the Coalition of Visionary Resources!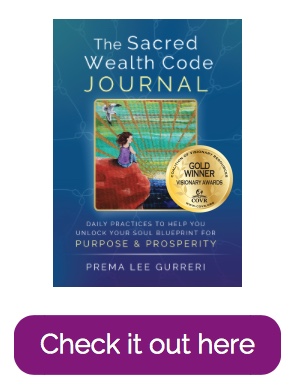 Much Love,
Prema